EvictionRecords.com is a national provider of secure tenant eviction checks and secure criminal history records. We offer property management companies and landlords a variety of secure tenant background checks. These include local criminal history records, a national secure tenant eviction check, federal court records, and identity verification. Our secure tenant eviction checks are provided instantly to our customers, and are not only accurate but also very easy to read. This allows landlords to make sound tenant decisions about their apartment rentals and secure the best tenants.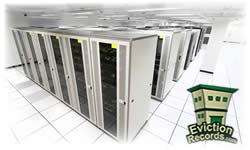 EvictionRecords.com has made customer satisfaction a top priority. We provide our customers with an instant secure tenant eviction check and instant criminal background records. We also give them access to many of the landlord resources that they may need during their tenant screening search. The landlord and property manager resources page is designed to provide resources to landlords, property managers, and real estate professionals with links to free tenant background check resources that might help them in their search for the right tenant. Many of the links provide information free of charge to anyone interested.
Customers can connect with EvictionRecords.com through some of the most popular social media websites on the Internet. Some customers prefer to read quick updates on their Twitter feed and others prefer to get information about our company on Google+ and Facebook. For more information on these social pages and to stay in touch with us, please visit our social media page. You can also visit our Better Business Bureau Accredited Business webpage to view our accreditation. The Better Business Bureau accreditation reaffirms that we are a trustworthy company that is committed to maintaining a business code of ethics.
At EvictionRecords.com, we pride ourselves on offering a safe, secure and easy way to pay for tenant eviction check searches. We not only accept secure credit card payments from Visa, Master Card, American Express, and Discover Card but we also accept PayPal. To read more about our website security, please visit our tenant screening security webpage.
To get started to order a secure tenant eviction check, you can create an account using our Standard Account Registration Form to pay with a credit card or PayPal or you can use the Monthly Billing Registration Form to apply for an account to pay by company check. If you already have an account with us, but forgot your password, simply visit the following webpage to update your password: https://secure.evictionrecords.com/account-forgot-password.html